Beuchat
Rocksea Trigocamo Wide Freediving Long John
Regular price
£130.00 GBP
Sale price
£130.00 GBP
Regular price
Rocksea Trigocamo Wide Freediving Long John

*This product is the Long John only. To be paired with the Rocksea Jacket.*

Beuchat were the first to pioneer unique 3D photographic camouflage systems created with powerful trigonometric calculation software: Trigocamo camouflage. Today, we have added a deep field effect to create the Trigocamo Wide, camouflage that is still just as unique but even more effective.
The Trigocamo Wide combines the 3D realism of the Trigocamo with a softened background effect, providing depth of field to enhance the effectiveness of the camouflage.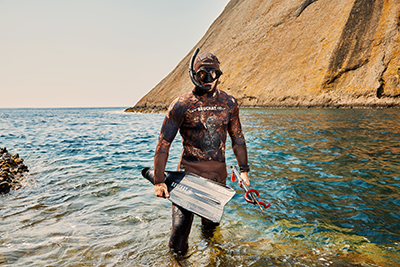 Thermal Protection for adventure
Fourth Element
Fourth Element is dedicated to making the best gear for your adventures, from award winning drysuits and wetsuits to swimwear and rash guards.
The X Factor
XDEEP
XDEEP has truly redefined scuba diving gear by offering diving products with the right attitude.